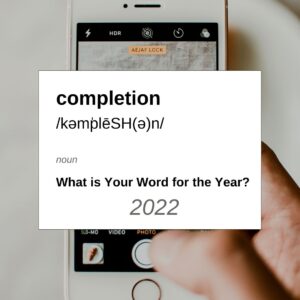 My word for 2022 is completion. I generally spend a portion of new year's eve thinking about the past year and picking a word to represent how I hope the following year unfolds. Last year my word was action. The year before it was truth. I chose completion because at this point in my career–and in my life, I have accomplished a lot, but I have some unfinished projects that I want to complete.  At the top of my list is offering writing classes that I've developed and tested but never really marketed consistently. I get very excited about creating content, but getting the word out about my offering is where I drop the ball.
At the end of 2021, I finally hired someone to help me–a decision I wish I'd made years ago, but at least I have help now. As a result, I am actually doing most of the tasks that are on my marketing plan. My posts look professional and my messaging is consistent. Now, all I have to do is stay the course.
Projects to be completed
In addition to writing courses I want to share, I also have some unfinished books. There's fiction about Jane, the birth mother I never met and non-fiction containing wisdom I've collected over the years in an attempt to make sense of some of the nonsense I've encountered both personally and professionally. There is also started a series of guided visualizations that I had hoped to turn into a podcast. I'm sure if I thumb through my file cabinet, there are other half finished projects that I've forgotten about.
When I picked completion as my word for 2022, I considered whether it would put too much pressure on me to complete something the wasn't worth finishing. Sometimes there's a good reason that first draft remains untouched. A few years ago, I threw away years of journals. Like many writers, I carried a notebook with me wherever I went and filled it with what I believed to be brilliant thoughts.  There might have been a few gems, but most of the content wasn't worth saving. With absolutely no regret, I dumped at least thirty notebooks into the trash. Good riddance to….
Stream of Consciousness Writing
Needless to say, I haven't stopped buying and filling notebooks. Jotting down ideas is a big part of my day. I blame it all on Julia Cameron's The Artist's Way and her morning pages. For years, per her suggestion,  my morning routine consisted of coffee and stream of consciousness writing as a form of meditation.  It was an excellent way to tap into my subconscious to find inspiration and to solve problems. It's amazing what lies beneath the surface of our conscious mind–if we just give it a voice and stop long enough to listen.
If you like the idea of picking a word for the year that might help you focus and accomplish a goal, it's s not too late. You might already know what that word needs to be, or you might want to use a word for the year generator. created by comedian Jen Fulwiler. Her generator randomly picks a word for you–and you can keep picking until you get the one that inspires you.  I just gave Jen's generator a try and my word is SLOW. Yes, it speaks to me. I'm always reminding myself to slow down and take my time.
What's your word for 2022?
# # #
Jan Fishler is the author of Searching for Jane, Finding Myself (an adoption memoir), Don't Stop Now: Making the Most of the Rest of Your Life, Flex Your Writing Muscle (365 Writing Prompts), and  PTSD: Lessons From Vietnam. She is a motivational speaker who also teaches writing classes online. More about Jan at www.JanFishler.net.