Hi!  I'm Jan Fishler, Author, Motivational Speaker and Writing Coach.
I'm the author of four books. I also write articles and blog posts.  

I love speaking to groups and organizations on topics that inspire and make people laugh.

I teach online writing workshops and co-facilitate transformational retreats. 
Here's the overview....
Author
My most recent book, Don't Stop Now: Making the Most of the Rest of Your Life, was co-authored with Elle Gianforte and written especially for mid-life women who are in the process of figuring out what's next.  The book covers eight important areas: Physical Health, Emotional Wellness, Finance, Relationships, Behaviors, Appearance, Learning Something New, and Giving Back.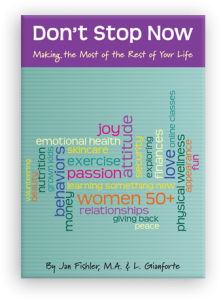 Long Learning and Giving Back and is packed with ideas and inspiration that leads to thoughtful action. You can read more about the book at the Don't Stop Now website and buy the book on Amazon.
My other books are here.
Speaker
After writing Don't Stop Now, I began speaking to women's groups, clubs and organizations about how to "Make the Most of the Rest of Your Life." My talks and keynotes are always motivational, memorable and entertaining. For women who want to delve deeper, I co-facilitate Weekend Retreats.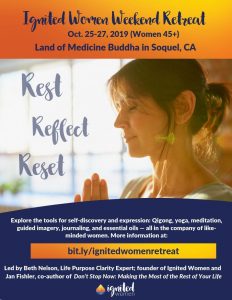 Upcoming Ignited Women Weekend Retreat: On October 25-27, 2019 at Land of Medicine Buddha in Soquel CA. You are invited to explore the tools for self-discovery and expression: yoga, meditation, writing, hiking and more. Find out more.
Writing Coach
For entrepreneurs, consultants and speakers who need a book to support their work, I offer Your Book: Just Write It! online writing workshops.
The next workshop will be held in January 2020.  Stay Tuned. Meanwhile, to find out why you need to write a book, watch the video below.
Let's get acquainted
Set up a FREE 30 MINUTE CALL to talk about having me speak to your organization or to talk about your business and see how I can help you write your book. Just click on the button below.