Sleep
Last night I was watching an episode of Shameless (I just love that series). Lip's AA sponsor was so sleep deprived from taking care of his new baby that after a long period of sobriety, he started drinking again. The scene ended with him punching Lip in the face and driving off drunk. A prime-time example of how lack of sleep can impact our judgment and result in dire consequences.
This brings me to the importance of sleep. In this go, go, go, gotta get it done world, who isn't pushing themselves? All you have to do is sit down in your local Starbucks and watch people work. Or better, look in your own mirror and see the tired face staring back at you. How much caffeine does it take for you to get through the day?  Is the gain worth the side effects?
Caffeine
According to an article in Healthline, https://www.healthline.com/nutrition/caffeine-side-effects caffeine is safe for most people if it's consumed in low to moderate amounts. High doses (400 milligrams/ day or 4 cups of brewed coffee) can be dangerous.
Too much caffeine can cause: Anxiety and nervousness, digestive issues, muscle breakdown, addiction, high blood pressure, rapid heart rate, fatigue (after the caffeine leaves your system), frequent urination and urgency, and, insomnia—difficulty getting enough restorative sleep.
Other Factors
There are factors other than caffeine consumption that contribute to sleeplessness. Stress, worry about work, health, money, and family can consume our thoughts making it difficult or impossible to fall asleep or stay asleep. So can traumatic events like the death of a loved one, divorce, loss of a job. For many people, just listening to the news can cause sleepless nights. For mid-life women, menopause can be the culprit.
Whatever the cause, lack of sleep will eventually take a toll on your mind, body and soul. Instead of being more productive, you can end up spinning your wheels or worse, making serious errors in judgement that can affect your job and perhaps your life.
Solutions
While pharmaceuticals are an option, I prefer more natural alternatives—for obvious reasons, ones that don't include drinking tea before bed—like those suggested by onemedical.
The original article offers many more do's and don'ts. But the first six work for me—especially relaxation exercises and mindful breathing.
Stick to a regular sleep schedule (same bedtime and wake-up time), seven days a week.
Exercise at least 30 minutes per day most days of the week. …
Get plenty of natural light exposure during the day. …
Establish a regular, relaxing bedtime routine.
Take a warm bath or shower before bed.
Do relaxation exercises before bed, including mindful breathing and progressive muscle relaxation.
The Quick Fix
It's amazing how a few deep breaths followed by 5 to 10 minutes of watching your breath can clear your head of stressful thoughts and reboot your system—and help you relax enough to fall asleep. Another option is to listen to any of the sleep meditations on Insight Timer. That app has been a blessing.
Sometimes life becomes so complicated and stressful that the only way to relax is to unplug, change the scenery, and spend time in nature. Remember: Sleep is important. To be our best selves, we really need 7 to 8 hours a night.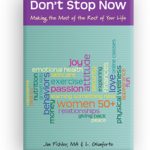 Jan Fishler is an author, motivational speaker and writing coach.  You can learn more about her work at www.JanFishler.net and www.DontStopNow.us, the site of her latest book.
If you want to rest, reflect and reset, check out Jan and Beth's Ignited Women Weekend Retreat October 25-27 in Soquel CA.