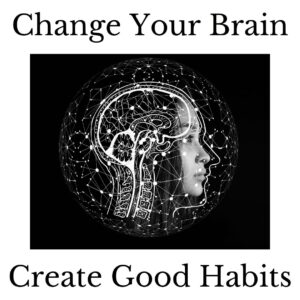 Habits — the good, the bad and the ugly. The goal is to develop good ones, but that's not always easy. Obstacles often abound making it difficult to reach your objective. Many times,  the things that trip us up and stop us dead in our tracks are often of our own making. Fear, perfection, ego, avoidance, hopelessness, apathy, comparing yourself to others–the list goes on and on.
Generally, obstacles come from the unconscious programming we received as children and never bothered to rethink and repair. Voices of former teachers who lacked faith in our abilities, critical parents, teasing by older siblings. The little jabs and digs add up until we lose faith in our abilities and in ourselves. Feeling worthless or less than, we let go of dreams and aspirations and settle for good enough. We stop believing that our goals are attainable. Bitching and complaining, we stay in dead-end jobs and remain in unfulfilling relationships. If this goes on long enough, we simply give up. Negative beliefs and bad habits can be reversed.
You can rewire your brain and overcome hurdles.
Fortunately, it's possible to reprogram the brain to overcome the hurdles that prevent us from achieving our goals. It doesn't take years of therapy to become a highly successful person. We've come a long way since 1987 when Stephen Covey's The 7 Habits of Highly Effective People was published. The field of neuroscience provides an array of solutions for overcoming habits and behaviors that no longer serve us.  This field includes any or all of the sciences that deal with the structure or function of the nervous system and brain. As a result of research in these fields, rewiring the brain for better results–including optimal health and wellness–has become a popular pursuit.  Books on the topic abound. and so do free audio recordings. Just Google, "reprogram the brain" or "rewire the brain."  There are also many experts in the rewire field such as Dr. Joe Dispenza and Dr. Bruce Lipton.
Strategies to change your thinking abound.
Clinical Hypnosis, Emotional Freedom Technique (Tapping), Gratitude daily practice, Inner Child Work, Neurolinguistic Programming (NLP), and Psych K , to name a few.
My journey began with hypnosis. It was the mid-80s and out of many candidates, I was selected to be the writer/producer for a large Bay Area corporation. I'd just completed my master's degree and student loans were coming due. This job was a lifesaver, but here was one problem. The company had a no smoking policy, and I had a pack-a-day habit.  To make matters worse, most of my smoking occurred as a precursor to a writing assignment. Cigarette smoke was my muse. At the time, I had been videotaping hypnosis training workshops where I saw first-hand the power of this therapeutic technique.  I called the psychologist in charge. If anyone could help me, it would be him. Two sessions did the trick. A week later, I was smoke free and I never smoked again.
Trick the subconscious mind to make life better.
That experience launched my mission to discover other ways to trick my subconscious into making my life better. My bag of tricks includes affirmations, breath work, exercise, laughter, relaxation, meditation, music, self-hypnosis and visualization.  A little NLP and gratitude is also part of the mix. For example, whenever I need to write anything I stretch and get into a relaxed state of mind. Then, I picture my ideal outcome and imagine myself writing quickly and with ease.  Before I start typing, I tell my subconscious what I need: you have forty minutes to complete this blog post. If I'm not in a great mood I might do some laughter yoga–yes, it's a thing or add items to my gratitude journal.
Check out Mel Robbins, The 5 Second Rule.
Most recently I discovered Mel Robbins book, The 5 Second Rule. Robbins says, "The 5-second rule is simple. If you have an instinct to act on a goal, you must physically move within 5 seconds or your brain will kill it. …. Hesitation is the kiss of death. You might hesitate for a just nanosecond, but that's all it takes." The trick is to count backwards: 5-4-3-2-1 and then act.  This past week I've used the rule to not have a second glass of wine, not eat dessert, not binge watch Chicago Med.  I've also used the rule to make progress on my seemingly endless to do list.  Thank you, Mel!
It's unrealistic to think that life will always go as planned, but there's no reason to let obstacles real and imagined thwart our progress. An abundance of tools are available to help you rewire your brain to become happier, healthier and more productive.
#    #    #
Jan Fishler is the author of Searching for Jane, Finding Myself (an adoption memoir), Don't Stop Now: Making the Most of the Rest of Your Life, Flex Your Writing Muscle (365 Writing Prompts), and  PTSD: Lessons From Vietnam. She is a motivational speaker who also teaches writing classes online. More about Jan at www.JanFishler.net.