Don't Stop Now! Making the Most of the Rest of Your Life. It's the kick in the butt 50+women need to keep on keepin' on!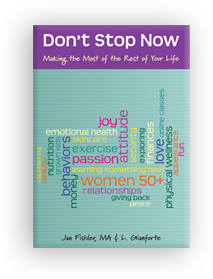 As we get older, it's common to look back on our lives to see where we've been. Don't Stop Now: Making the Most of the Rest of Your Life encourages you to look forward to see where you want to go.
Odds are you've accomplished a lot to date—much of it sweetly, satisfyingly mundane; some of it dramatically impressive—but now the questions loom.
What's next?
Is that all there is?
Have you done enough?
Do you have it in you to do more?
Don't Stop Now helps unearth the answers. As professional writers and members of the over-fifty tribe, we've done the research, talked to the experts, conducted the interviews, and gathered the information you need to make the rest of your life the best of your life. Each chapter is devoted to a specific issue:
Physical Wellness
Emotional Health
Finances
Relationships
Behaviors
Appearance
Learning Something New
Giving Back
You'll find strategies for living a life that is fulfilling, rewarding, and joyful regardless of age. You'll meet women who have been where you are…who have overcome obstacles…who have flung open doors of opportunity in their fifties, sixties, and beyond.
If you're looking for an inspiring story filled with mystery and intrigue, order my book Searching for Jane, Finding Myself (An Adoption Memoir).
The story was damn incredible — some parts of it so crazy it almost seemed like fiction. The writing was solid — the author had such a great eye for detail — she put me in the same room with her, experiencing the wild (and tragic, and wonderful) things as they unfolded. ~ Amazon Review
Without even realizing it, I spent most of my life looking for my birth mother's heartbeat, projecting the pain caused by my loss wherever it would stick. Searching for Jane, Finding Myself is a memoir that reveals the abandonment, fear, anger, and sadness that often result from adoption, and demonstrates how healing can ultimately take place.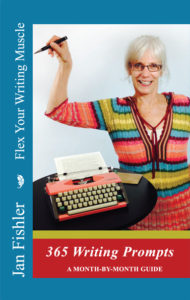 Whether you are relatively new to writing or a seasoned professional, Flex Your Writing Muscle: 365 Writing Prompts (A month-by month guide)  will help jump-start your writing and keep you on the writing path.

Writing prompts encourage you to write about uncharted terrain that you might not explore on your own. Some prompts can ignite a spark and result in a blog post or short article. Others can be so inspirational they result in short story or novel. To see if a prompt is for you, flex your writing muscle for five minutes and see where it takes you. If you haven't found your muse, stop and do something else, but if the prompt gets your creative juices flowing, keep writing!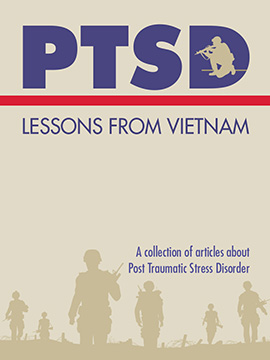 For veterans and those who love them, be sure to download my FREE eBook, PTSD: Lessons From Vietnam, a collection of articles originally published in VietNow National Magazine.
Download a pdf
Download an Epub version
Download the mobi for Kindle
This eBook is a collection of articles, previously published in VietNow National Magazine, and originally written to help Vietnam era veterans and their family members better understand and manage the trauma that often results from combat, and subsequently manifests as Post Traumatic Stress Disorder, or PTSD.
Here are links to some interesting and useful articles I've written.
Healthy Options: Articles about alternative healthcare practitioners appearing in The Union newspaper, the first and third Tuesdays of each month, beginning January 2015.
Articles about Search Engine Optimization (SEO) and working with freelance writers that I wrote to promote my own services.  These articles are informative and an example of content you can send to Ezine directories like Zinio, Ezine-Universe, eZineSearch, BestEzines.com and similar sites.
Articles about Tourism in Nevada County. These articles were designed to draw traffic to the Broad Street Inn, but were also used in a print media campaign in the local newspaper.